Join the VALUMICS Webinar: "Putting Solutions on the Table"
Wed, 08 Jul 2020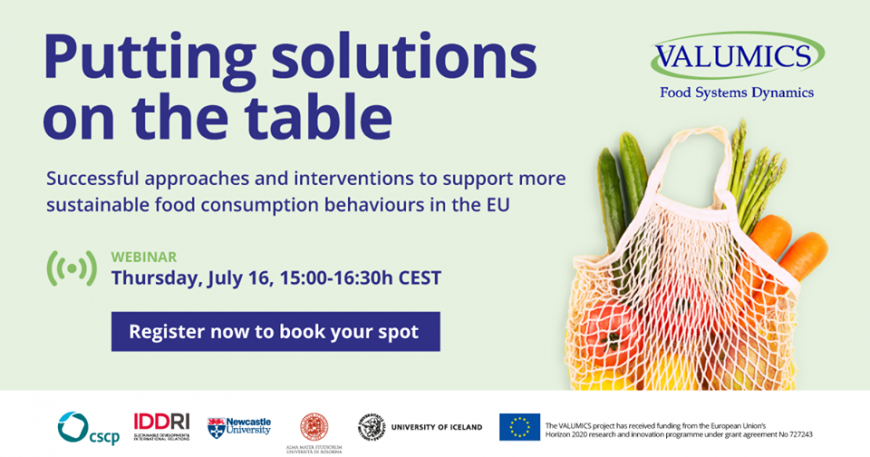 As a partner in the VALUMICS project consortium, ASSIST Software is inviting you to join the webinar entitled "Putting Solutions on the Table: Successful Approaches and Interventions to Support More Sustainable Food Consumption Behaviors in the EU", which will be held online on 16 July 2020, at 15:00.
Make a difference for the future of food consumption and register for the webinar: https://valumics.eu/sign-up/events/

The VALUMICS project is a Horizon 2020 Research and Innovation project that addresses specific challenges the food system and food value chains in Europe are currently facing. VALUMICS stands for value chain dynamics and the aim of the project is to evaluate the impact of policy on food value chains.

During the webinar, specialists in the field will share valuable insights gained from hands-on, behaviorally-informed pilot interventions and strategies suitable for the food industry and policy makers, in order to drive more sustainable food consumption practices.

By attending the webinar, you will gain knowledge of food consumption behavior patterns in the EU and of solutions towards more sustainable food consumption, such as supporting the increase of plant-based products in people's diets.

ASSIST Software's role in the VALUMICS project is to build an integrated dynamic simulation model and quantitatively test the generated model, in order to gain insight into the drivers and outcomes of behavior within food value networks.

The Valumics Project is co-funded by the Horizon 2020 program of the European Union and submitted under H2020-SFS-2016-2017 call Innovation Action, on-topic SFS-33-2016 with the project 727243-2.