ASSIST Software to participate in the Hannover Messe Digital Edition 2021 Tradeshow
Thu, 01 Apr 2021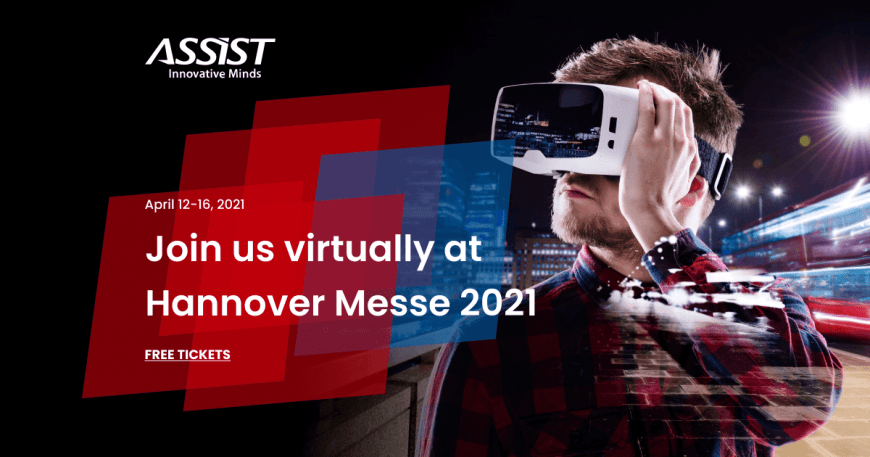 ASSIST Software is proud to announce that the company is set to participate and have an exhibition at HANNOVER MESSE DIGITAL EDITION 2021. The event will be held online and will include expositions, conferences, and networking services for the manufacturing, energy, and logistics industries.
This year's guiding theme is "Industrial Transformation" and ASSIST Software will be present at the event together with other industry shapers, companies always striving for the betterment of their knowledge-base and field of work.
We look forward to meeting you at the event!
The participation at HANNOVER MESSE is exciting since the event has been dubbed the most important industrial tradeshow in the world, where leading companies collaborate with and learn from each other while also showcasing their achievements and projects. Some voices call HANNOVER MESSE a true industrial revolution, making it the place to be for leaders and innovators.
Since 1992, ASSIST Software has delivered disruptive solutions with high standards of quality and security to over 240 international clients across multiple industries such as manufacturing, energy, agriculture, pharma, medical, and IoT, thus, positioning itself at the forefront of Romania's endeavors of being one of the major providers of bespoke software development services. ASSIST Software is well known in the software outsourcing field for being one of the most innovative companies in Romania with a team of more than 200 engineers pioneering revolutionary products.
With a strategic approach to product development and a forward-thinking vision, our company portfolio includes Automation, Blockchain, VR/AR, E-mobility, IoT, and AI-based solutions, which will be on offer to participants that are interested in a potential collaboration. Our virtual exposition will include samples of our work and will aim to prove once again that ASSIST Software is ready and willing to team up with other companies in need of innovative ideas. If you are interested in finding out about our services and potentially collaborating with us, visit our online 'booth.
Furthermore, the HANNOVER MESSE Digital Edition conference will include talks by various speakers. Participation has been confirmed by the Chancellor of Germany - Dr. Angela Merkel, Volkswagen CEO - Dr. Herbert Diess, and Siemens CEO - Dr. Roland Busch among others.
This meeting place for the International Industry Community will also have a live streaming section where some exhibitors will discuss groundbreaking solutions in an interactive conference program.
Held between the 12th and the 16th of April, the event will surely help companies exchange information, build strong working relationships and promote ideas for the factories, energy systems, and supply chains of the future.