NEW Elly and the Ruby Atlas Feedback Contest
Thu, 07 Oct 2021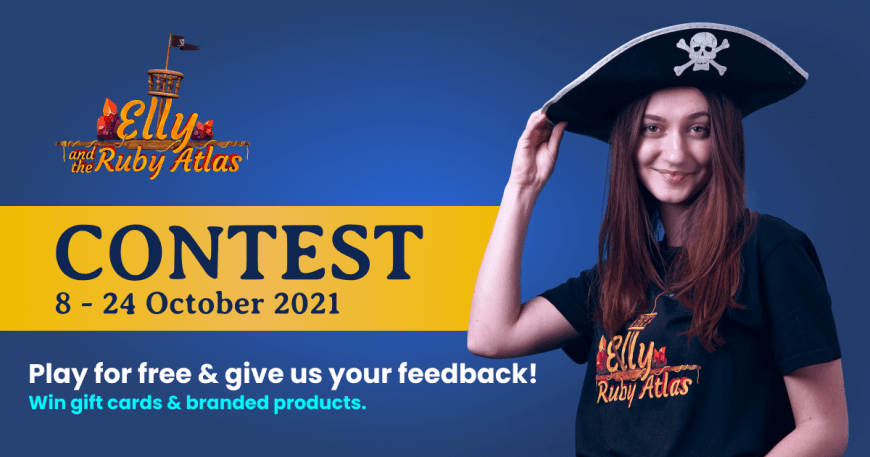 ASSIST Software is organizing a new contest for Romania-based players of the mobile game Elly and the Ruby Atlas. As a response to all the helpful feedback our game development team has received from players across Romania, ASSIST Software has decided to reward the best of the best reviewers.
This new contest will start on the 8th and last until the 24th of October. This way, even new players can participate as they will have enough time to download the app, enjoy the game to its finale and form their honest opinions regarding its mechanics and gameplay. For a chance to win, you can enter the contest by filling out the in-game feedback form.
A feedback contest that is important to our game devs
What the developers of the Gaming and Simulations department are especially looking for is constructive feedback from dedicated members of the community. Players will have the possibility to leave their mark on the game as their ideas and recommendations may be implemented in future releases.
The Elly and the Ruby Atlas development team is extremely focused on making a quality game that players will genuinely enjoy. Player satisfaction is the key factor taken into consideration with each new release and bugfix which is why feedback is vital in improving the overall experience.
Elly and the Ruby Atlas is free to play
Even despite its popularity and number of downloads, ASSIST Software's game, which is produced entirely in Suceava, remains free to play on both Google Play and App Store. With no ads and no microtransactions, Elly and the Ruby Atlas is one of the few pirate games on the market designed without a pay-to-win objective. Players will be able to experience the nostalgia of single-player titles such as the Port Royale series without the pressure of constant advertising and items or levels hidden behind pay-walls.
Furthermore, not only have players never been required to pay but those who offered feedback have been rewarded in the past with prizes that consisted of Steam vouchers and Elly and the Ruby Atlas memorabilia.
What and how can YOU win?
This time around, the prizes have grown in value. Whoever enters the competition before the 24th of October will have a chance to win one of three eMag vouchers worth 250 lei, 150 lei, and 100 lei. In addition to this, winners will also receive backpacks, water bottles, and t-shirts sporting the Elly and the Ruby Atlas logo.
For a chance to win, you can enter the contest by filling out the in-game feedback form once the event has started. You can also join the contest by leaving us your answers directly on our Freshdesk page. No matter the platform, you will be required to answer several game-related questions that are of importance to our game devs. Questions include details about gameplay and mechanics and overall impressions. All players are encouraged to leave recommendations regarding new features they would like to see implemented or that they feel would enhance the community's experience while engaging in Elly and the Ruby Atlas.
Contact us
For further information, you can reach us through our Facebook page, Discord channel, or via email and a member of our team will assist you as soon as possible.
We remind you that you can download Elly and the Ruby Atlas here:
You can leave feedback in-game or directly on our Freshdesk: https://elly.freshdesk.com/support/tickets/new