Get your tickets and see us at Hannover Messe 2022
Thu, 19 May 2022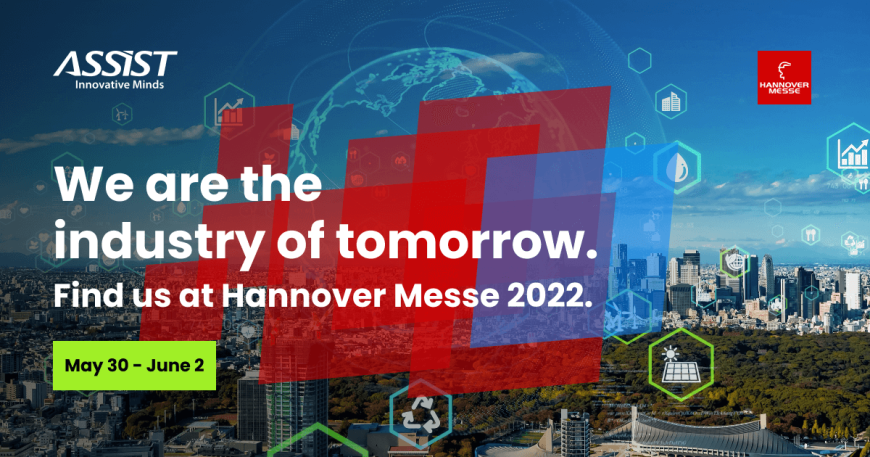 Are you looking for news about the Hannover Messe 2022 event? We are excited to announce that ASSIST Software will be among the attendees once again.
Even if it took place virtually, the 2021 online Hannover Messe edition was a success for us as we were able to talk about our projects and passion with new friends and partners. However, in 2022, we will be meeting you on-site at one of the most influential tradeshows in the world. Hannover Messe is a suitable place for leaders, influencers, and enthusiasts to meet up and swap ideas.
Innovation is our focus and ultimate dream. We exist to provide software solutions. We do not shy away from any challenge the industrial sector might raise. ASSIST Software is known for its great implementation strategies but also top-notch development. This is the perfect event where we can highlight projects based on pioneering ideas and scientific research, that provide answers for the industry of tomorrow.
Does Hannover Messe 2022 have a theme?
This year's exhibitors at Hannover Messe will show you how they combine digitalization with artificial intelligence and automation to help solve one of the world's greatest challenges: climate change.
We can't wait to establish connections with other like-minded people who understand the importance of climate neutrality and share ideas with companies who do more than try to be environmentally conscious and friendly.
The tech industry needs brilliant ideas and exceptional people ready to work together for a better future for our planet. ASSIST Software is open for collaboration! Why not?
Our projects deserve your attention
Through projects such as Ambisense and SterilTrack, ASSIST Software changes perspectives on digitalization and how it can aid the health industry while also reducing greenhouse gas emissions.
Come and talk to us about the STP (Smart Tracking Platform). It is a research and development project awarded within the CENTRIC project: Center for knowledge transfer to enterprises in the ICT field.
We understand sustainability. Ask us how BladeSave optimizes wind turbines and increases their availability from 95% to 98-99%. We would love to discuss the SmartEVC project (Smart Management Platform for Electric Vehicles Charging Stations) with you too.
How can you find us at Hannover Messe?
In between attending panel discussions, live-streamed events, networking events and inspiring keynotes from remarkable Hannover Messe speakers, you can visit us at our stand.
We want to hear from you! We want to know about your plans and your projects. Our previous Hannover Messe experiences have brought us great friends and partners. We would love to add you to our list.
To book a meeting with us, contact us at hello@assist.ro
See you at Hannover Messe 2022!