ASSIST Tech Challenge 2021: A New Contest for Students
Mon, 08 Mar 2021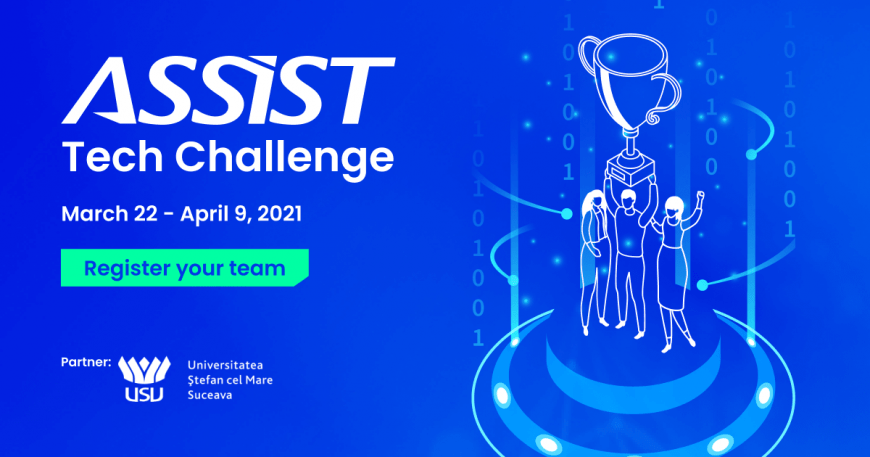 This month, ASSIST Software is organizing a brand-new contest for young software developers that are studying at Stefan cel Mare University of Suceava. ASSIST Tech Challenge, as it was named, will award innovative minds that can prove their skills and creativity while building a full-stack application on a given theme.
To be able to register as participants, students must form teams of between 3 to 5 members and must nominate one person as a team leader. It's their responsibility to name the team and assign themselves roles such as backend developer, frontend developer, designer, and QA tester. Teamwork will play a vital part in deciding the quality of the outcome so having a good team will be a competitive advantage in the competition.
Students can register for the contest at any time between the 8th and the 19th of the month. The contest has no entrance fee!
On the 22nd of March, the ASSIST organizers will announce the theme and requirements of the application they want the contestants to develop. Therefore, the participants will have about three weeks to work on their projects, discuss their progress and finally present the app on the 9th of April.
After the jury deliberates, the closing ceremony will take place and the prizes will be awarded.
The team that comes in 1st place will be granted a cash prize of 3000 lei, while the 2nd place winners will receive 2000 lei and the 3rd place winners will receive 1000 lei. But that is not all; Individual awards will also be granted to "heroes", the best of the best.
Backend Hero, Frontend Hero, and QA Hero are the three 500 lei awards that will be given to the students that stood out with regards to their skills and passion for programming. All winners will also be offered the chance to attend a summer internship at ASSIST Software and experience the atmosphere of working in a real software development company.
Of course, all those that took part will receive goodie bags as an acknowledgment of their efforts. The aim of the ASSIST Tech Challenge is to encourage students that are just starting their careers and give them advice when needed.
Details about the competition, including the terms and conditions, can be found here: Terms and Conditions ASSIST Tech Challenge 2021 | ASSIST Software Romania (assist-software.net)

ASSIST Software wishes everybody that plans to register for the ASSIST Tech Challenge good luck! Sign up today!